Join Our Circle of

By joining Miracle Friends, you support our charity work in making Course teachings and materials accessible to all students in the UK, including those on low incomes.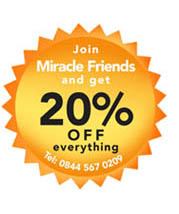 In return for a contribution of £12/month we would like to offer you:
Free 'rolling' subscription to our six annual issues of Miracle Worker magazine
+ 20% off the full price of all Miracle Network events, including the Conference, Miracle Cafe, all talks, workshops and retreats (except the accommodation element)
+ 20% off mail-order purchases (and note that beyond what's listed, we can also source and ship ACIM-related books and materials at good prices!)
+ 20% off all website purchases
+ 20% off bookstall purchases.
If you are an existing subscriber to Miracle Worker magazine and would like to upgrade to a Miracle Friend, we would like to thank you for this extra support by offering your first 2 months' free. Just tick the box on the form.
Alternatively to join : Download, complete and return a standing order form to us — or contact our administration office (020) 3538 6163 or admin@miracles.org.uk
Would you like to buy a Miracle Friend gift for a friend or relative? We would be delighted to deliver this to them on the date you specify, along with any message you would like to include. Please contact us to discuss details.
Thank you!