Join a
Course In Miracles Study Group
This information is provided for the benefit of those wishing to locate and join a group in their area. It is not to be used for the purposes of promotion or advertising by individuals or organisations, under any circumstances.
This map shows the locations of groups studying ACIM in the UK.
You can scroll and zoom using your mouse to pinpoint a particular group's location and zoom in or out, using +/-, if required.

You can also filter to see only the groups you want to see by clicking "Filter by" above the map.
Clicking a marker will tell you when the group meet and how to get in touch.
Pointer locations are only approximate. In a few cases, there is more than one group in a particular location – zoom in to check.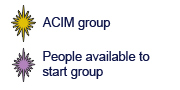 DISCLAIMER: Our aim on this page is simply to report the groups we have been informed about. We do not take responsibility for the content of the groups, the way they are run or any matters arising.