Due to Coronavirus, this event will be held online, at a significantly reduced price. Attendees will be sent joining instructions the day before the event.

A morning workshop with Annie Blampied-Radojcin
Online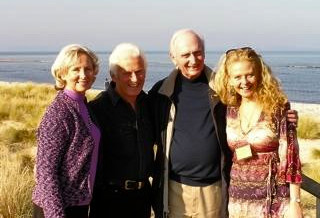 In this workshop Annie will share some of the spiritual adventures and lessons learnt, through her friendship with A Course in Miracles teachers Tom and Linda Carpenter.
Included will be deep learning about healing from depression, and how, when we are healed, we are not healed alone.  As part of our morning together, we will work through such a healing process. Annie will also share some of her other experiences and conversations with Tom, connected with environmental and health issues; what is real and what is the dream and, of course, forgiveness!
Most of all, whether you met Tom yourself, or not, she hopes you will discover a sense of his deep kindness, wisdom, humour and radical acceptance of Jesus' teaching.
Annie Blampied-Radojcin is a OneSpirit Interfaith Minister and Hospice Chaplain. She has been a student and teacher of A Course in Miracles since 2003. She met the Carpenters in 2005, and was a regular guest of theirs in Kauai, Palm Desert, and Seattle. She organized and hosted gatherings for them in England and Scotland and went on holidays with them to Italy. She is the founder of Quietude, a training course for people wishing to offer spiritual support for those on the journey of death and dying. www.emerson.org.uk/quietude
BOOKING: please select ticket/s below. Miracle Friends' 20% discount can be applied at the checkout. Or, if you prefer, contact (020) 3538 6163 or admin@miracles.org.uk.
Enquiries: (020) 7262 0209 or info@miracles.org.uk